Dipti Kumari became individual national champion in the 40th NTPC National Archery Championship which ended on Saturday in Jamshedpur
---
|

Ranchi

|
Posted on 11.10.21, 00:17 AM
---
Dipti Kumari, who became the new National Women's Individual Archery Champion, had more than one happy reason to be.
The girl, who will turn 20 by the end of this year, not only became the individual national champion at the 40th NTPC National Archery Championship which ended on Saturday in Jamshedpur, but also brought a reconnaissance at Birsa Munda Archery Center, Jonah, one day boarding. center intended to provide training to aspiring archers, which had never had such credit before.
People who know Jonas for his majestic waterfall which attracts large numbers of tourists will now also know the archery training center which produced a national champion.
"It's a happy time for all of us because the girl who had struggled a lot finally got the recognition she deserved," said Rohit Koiri, the coach attached to the center who found Dipti to have potential and l 'has coached since 2013.
"This is not the only laurel she won," Koiri added while speaking to this newspaper and added that Dipti had won 2 gold and one silver at Cuttack in 2019 and was also a member of the gold winning team at the National Junior Championship in Uttarakhand. earlier.
"But Dipti had to struggle a lot," he added, adding that she didn't have a bow of her own and that the center, with its limited resources, couldn't help much.
Buying him a bow was also beyond the capabilities of his father, Kainath Mahto, who drives a van for a living, he added.
Finally, after learning that Dipti was a very promising archer, Sudesh Mahto, leader of the Ajsu party and former deputy chief minister, gave him a good bow and required accessories in 2019, he said. informed.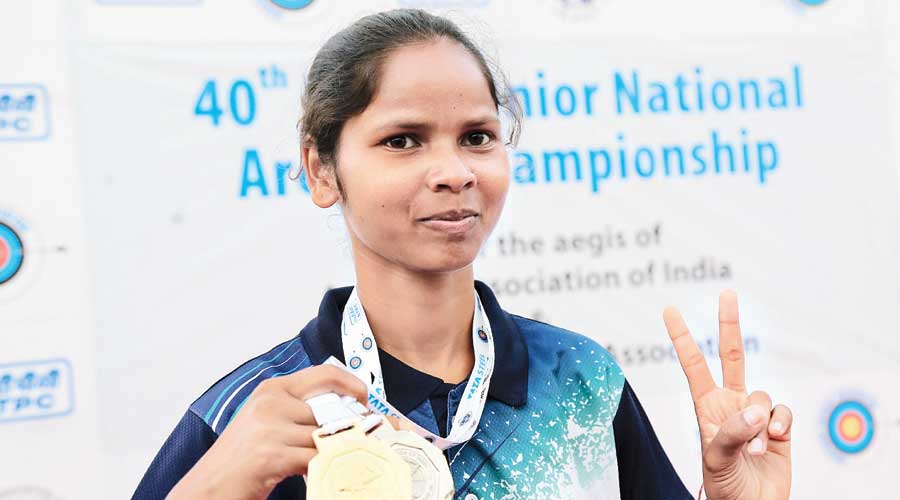 Although the arc helped her a lot, she could not overcome the problems as she turned 18 at the end of 2019 and became ineligible for the monthly allowance of Rs 500 that she would get as a as an intern, Koiri informed.
"Sometimes I didn't even have the money to pay for an automatic rickshaw to reach the training center," said Dipti, from the village of Jonah, a few kilometers from the center. improve his archery skills.
"In the meantime, she also got a job with the Indo-Tibetan police force in Borader and that helped the family a lot," Koiri added.
"Yes, that's right," Dipti replied in the affirmative, adding that she had joined the ITBP as a police officer about five months ago and was now undergoing training in the Haryana.
"I hope so," Dipti sounded positive when she pointed out that her younger sister who also aspires to be an archer and is training at the same center would not be facing the same financial crisis as she does.